How do you imagine your family vacation in Aurina Valley? Enjoying your breakfast together while making plans for the day. Experiencing our wonderful nature with all your senses. Hiking, playing, swimming and discovering. Sounds like the perfect family vacation … Thanks to the wonderful and convenient location, our inviting apartment house is the ideal starting point for various activities and great excursions. The recreational opportunities in the area are almost limitless: for those who love sporting challenges, just as well as for nature lovers or culture fans.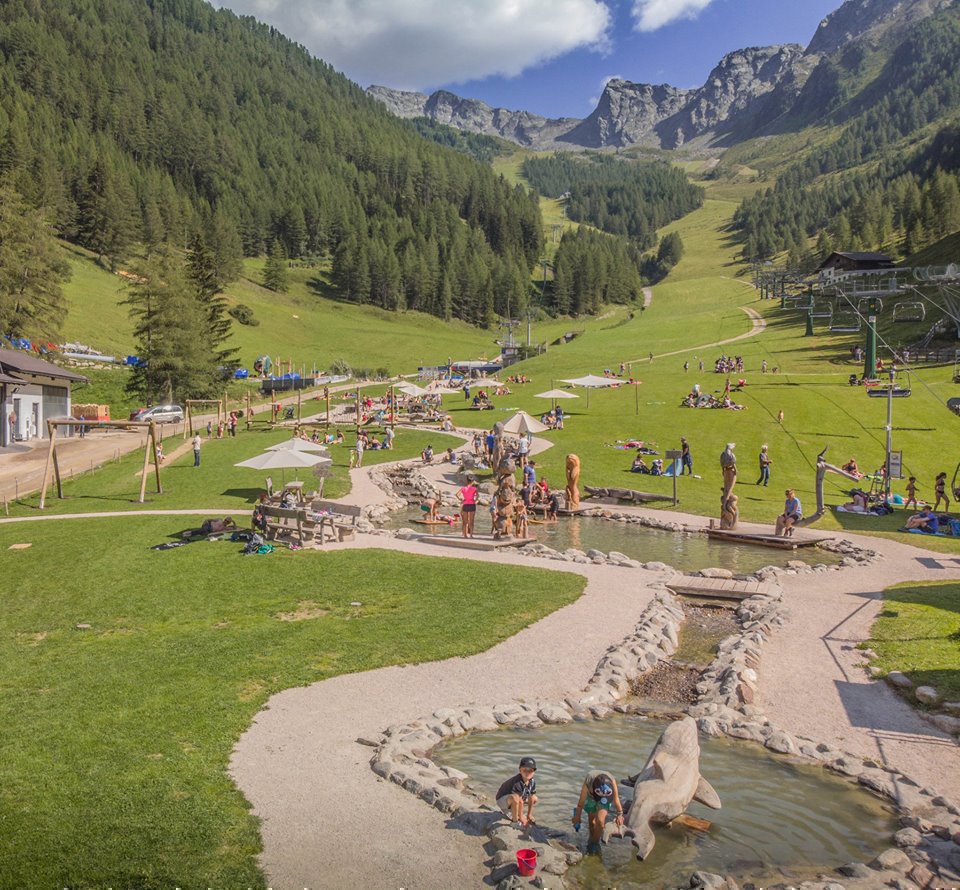 Together with your kids you may dive into the history of our region and visit the fascinating Folk Museum or the magnificent Castle of Tures. A game of mini golf or tennis guarantees plenty of fun for young and old. Why not trying to explore our charming scenery on horseback? Tip: The nearby stables offer not only horse riding lessons, but also real horse trekking!
Family vacation in Aurina Valley:
in every season a great choice!

In our region, every season has its own charm. Experience in the spring the awakening of nature during a leisurely stroll, or take a bike ride under the sun. We also provide rental bicycles for your excursions … free of charge, of course! In the summer, the family and leisure pool Cascade invites you for a refreshing dip into the water. And while the autumn is the ideal time to put on your walking shoes, the winter transforms our region in a stunningly sparkling snowy landscape. Which season is your very personal favourite? Welcome to your family vacation in Aurina Valley!
Are you planning to spend
a holiday with children in the mountains?
Then you've come to the right place! Here, you will experience how varied, diverse and joyful a vacation with children in the mountains can be. We bet you have never seen your kids so cheerful and happy! Our fresh and healthy air, the delicious South Tyrolean kitchen, the inviting ambience in your apartment: All of this contributes to the fact that not only the adults feel at ease here, but also the children. In the immediate vicinity you will find countless great destinations and attractions. The highlight is certainly the fascinating Mining Museum in Predoi, which is only eight kilometres away from our house. Also worth seeing: the spectacular Riva Waterfalls, which you can admire in the vicinity of Campo Tures.
Tips for your holiday
with kids in the mountains
Of course, also in our beautiful region sometimes the sun might hide behind the clouds and the weather is unpleasant. But there's no reason to despair, because even when it rains there are still plenty of things to do with your family. Fun and educational at the same time: visit the Mineral museum, which is only 1.5 kilometres away. A tip not only for the Christmas season: the beautiful Nativity Museum Marantha (6.0 km away). Or how about a visit to the Mining Museum (only 300 meters)? Spend your holidays with children in the mountains as you like, no matter how the weather is!
Perfect conditions for
your hiking holiday with family!
There is probably no other region in South Tyrol, which is better suited for a hiking holiday with your family than the Aurina Valley. In the area there are more than 50 3000-meter peaks in the Zillertal or Vedrette Alps, the hiking trails throughout the area are excellently marked and in very good conditions. Lace up your hiking boots and pack some snacks in your backpack: along the way you will always find an idyllic spot for a picnic!
Especially for smaller children, a longer tour may be wearing: simply take a marvellous break on a lush mountain meadow and experience how great it feels to dip your feet into a babbling brook! Together you may discover the fragrant scent of wild flowers and watch the butterflies dance. When young and old are fully rested, the hike can continue through our natural paradise!
A hiking holiday with the family:
Leave your car at home!
If you wish to take great tours during a hiking holiday with your family, there's no need to travel far. Our house is located in the picturesque town centre of Cadipietra – it's only a two minutes' walk to the cable car station Monte Chiusetta. Therefore you won't need a car, which guarantees a completely relaxing experience. And your kids will surely be thankful when after the long journey they don't need to go back into the car. From here, many beautiful destinations can be easily reached by foot: so at the same time you will also improve your health!